About BikeRumor
Bikerumor.com (part of AllGear Digital) is the world's largest cycling tech blog with millions of monthly readers from all over the globe. Founded by Tyler Benedict in June 2008, the BikeRumor staff has grown to include many passionate cyclists who cover everything from road to gravel, cyclocross to cross country, enduro to gravity, and even eBikes, commuting, and lifestyle gear. 
We focus on the latest bikes, components, technology, and the people behind those brands and products. 
While one of our main goals is in-depth coverage of all the breaking news in the world of cycling, we also love putting together long-form articles including factory tours, detailed reviews, and features on the human element of the bike industry. 
Editorial Policy
At BikeRumor, our mission is to provide the most up-to-date and accurate coverage of the bike industry as a whole. We focus on the stories we want to tell, not ones we're paid to. 
To accomplish this, we do our best to tell all sides of the story. We cover the good and bad of each part, component, or product. And we tell our readers the same stories as we'd tell our friends and colleagues. 
Ultimately, our goal is to be fair, both to brands and readers. We want to help you find the best gear to live your best cycling life. To tell the best stories of those epic rides, and companies that are making the cycling world a better place. We believe honesty, integrity, and knowledgeable writing can help you do that.
Product Reviews
Thanks to decades of experience in bike shops, with bike brands, and other positions in the industry, our writers have earned the right to be considered experts when it comes to bicycles and the associated gear. 
We've all been there – trying to decide if that latest component is worth the upgrade. Or figuring out which bike in the fleet could be sold to finance the next one? We know those are hard decisions to make, and our goal is to help you in that process to make the right call with your own money. 
Doing product reviews well isn't easy, and it's why we typically go way overboard obsessing over every detail. We do this because we believe in our reviews and you should too:
Bikerumor has never, and will never accept any form of payment for a positive review. If you're reading a positive review, it's because we genuinely like it. 
We strive to be fair to both readers and the brands, reaching out to find out more if there are issues.
We rely on experts in the appropriate sub-category of cycling to provide the most accurate reviews. 
Finally, we try to keep an open mind about who might benefit from a product or service and actually try it before rendering a judgment. 
Sponsored Content and Advertising Policy
BikeRumor sells both sponsored content and advertising.
Sponsored content includes articles and technical explainers about products or services our clients would like to promote. These are NEVER reviews and will be labeled clearly as sponsored content.
BikeRumor also accepts advertising to help support its mission. However, advertising sales are done by a department separate from the editorial team. We also do not accept advertising in exchange for positive editorial coverage.
BikeRumor mandates that its editorial team look at products from a consumer perspective. Thus, we will cover and review all products fairly regardless of advertising support from a manufacturer.
To learn more about advertising and BikeRumor, click here.
Diversity & Inclusion
AllGear Digital is committed to creating an inclusive and welcoming environment for all, both for our company and in our content. As a minority-owned business, Diversity, Equity, and Inclusion are more than an initiative at AllGear Digital — they're deeply woven into the fabric of our organization. Prioritizing DEI at our company isn't just about growing our already diverse team, but about the role we can have in being a part of the broader global conversation.
At BikeRumor our goal has always been to give all cyclists a voice, regardless of gender, ethnicity, sexual orientation, or ability. Over the years, Bikerumor has employed incredibly talented women, in spite of their underrepresentation in the cycling industry. Moving forward, we will include more BIPOC+ contributors in an effort to make cycling more inclusive to all. Bicycling is a universal language that we're happy to share with individuals from all walks of life.
Click here to learn more about diversity and inclusion at AllGear Digital.
Our Team
Zach Overholt: Editor In Chief
Zach has been writing about what's new in the bicycle world for 13+ years. Prior to that, Zach spent many years in the back of a bicycle shop building and repairing nearly every type of bike, while figuring out how to (occasionally) ride them.
Tyler Benedict: Founding Editor
Tyler has been writing about the latest bikes, components, and cycling technology for 15 years. Prior to that, Tyler launched and built multiple sports nutrition brands and consumer goods companies, mostly as an excuse to travel to killer riding locations throughout North America.
Cory Benson: European Tech Editor
Cory has been writing about road, gravel, cyclocross, commuter, mountain & enduro bikes, even e-bikes for a total of 25+ years. Based in the Czech Republic, Cory is a mountain biker, gravel rider, short & medium-haul bikepacker, XC ski & snowboarder, DIYer, stonemason, and general outdoor enthusiast.
Jessie-May Morgan: UK & Ireland Tech Editor
Jessie-May has been writing about Mountain Bike Riding and Racing, and all its weird and wonderful technology for 5 years. Prior to that, she was an Intern at the Mountain Bike Center of Scotland, and a Mountain Bike Coach and Leader in the Tweed Valley. She is based in Scotland.
Jordan Villella: Racing Tech Editor
Jordan comes from Pittsburgh, PA, the home of steep hills and steel mills. He's drawn to performance-oriented cycling and racing. His love of tire tech, lightweight gear, and pro-only builds is only rivaled by his love of heavy metal. Jordan races mountain, road, and cyclocross in his free time, but his favorite rides are with his family.
Ron Frazelle: Cycling Lifestyle Editor
Ron has been writing about bicycles and the cycling way of life for 8+ years. Prior to Bikerumor, he worked in the bicycle industry in various capacities, living and breathing bicycles since 1995. Based in Anaheim, California, Frazelle is an avid cyclist of all disciplines, camper, father to 6 children, husband, musician and self-proclaimed retro-grouch.
Steve Fisher: Senior Staff Writer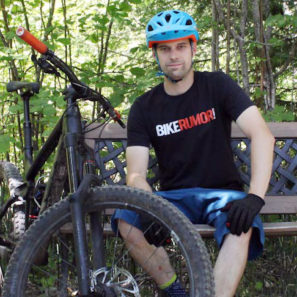 Steve has been writing about trail, enduro, and downhill mountain biking (plus a few commuter bikes) for 8 years. Prior to that, Steve wrote for Whistler Traveller Magazine and Mountain Life Magazine. Steve is based in Pemberton, British Columbia, an area that offers plenty of challenging world-class singletrack and makes for great photos!
Contact Us
Do you have a tip, new product, or great story you'd like to share? Please get in touch! We're always excited to hear from our fellow cyclists. Click here for a contact form.
Write for Us
Do you live and breathe bikes, bike gear, and cycling adventures? Can you turn a phrase and edit a photo like a wiz? Then we probably have work for you. Please check out our complete writers' guidelines and get in touch! Click here for more information about writing for BikeRumor.
Advertise With Us
Ready to take your business to the next level? Reach a fanatical group of cycling enthusiasts and leverage the expertise of AllGear Digital expert projects team with a focused advertising campaign. Learn more about advertising on BikeRumor here.
About AllGear Digital
Founded in 2018, AllGear Digital owns and operates a diverse set of media properties. Our team of journalists, editors, video producers, podcast hosts, and content creators oversee brands including GearJunkie, iRunFar, Switchback Travel, Soap Hub, Bikerumor, and other top names in the media space.
Corporate Leadership
Eric Phung: CEO
Eric co-founded AllGear Digital in 2018. As AllGear's Chief Executive Officer, Eric leads a global team focused on delivering high-quality content and services for our readers, our customers, and our communities. Eric also previously served as AllGear's Chief Financial Officer, after a career in institutional investing, investment banking, and financial restructuring at BlackRock, Tennenbaum, Houlihan Lokey, and FTI Consulting. He is a graduate of Boston College's Carroll School of Management.
Ryan Johnson: Vice President of AllGear
With a diverse career in digital media operations, brand strategy, and marketing, Ryan brings 20+ years of expertise to the AllGear Digital team. Ryan is the former VP of Operations at the leading outdoor site GearJunkie.com and prior to that was VP Marketing at QBP.
Sean McCoy: Editorial Director
As editorial director, Sean leads the direction and strategy of the AllGear portfolio of websites. Sean has many years of experience as a reporter and photographer for newspapers, magazines, and online publications. 
Alex Phung: Chief Legal Officer
With a legal and business strategy background, Alex oversees legal and governance matters, and helps lead M&A activity at AllGear. His career includes positions at Cargill and Dorsey & Whitney. Alex is a graduate of the University of Chicago Law School.
Stephen Regenold: Vice President of Strategy
Stephen is a journalist by training and a former writer for the New York Times. He founded GearJunkie, a popular publication about gear and the outdoors, which was acquired by AllGear in 2020.
Liam Steacker: Chief Technology Officer
Liam's experiences encompass tech strategic initiatives in the private and public sectors, at Groupon, Oprah, and the U.S. Naval Research Lab. Liam is a graduate of DePaul University.